A Higher Standard
Become Go Fog It™ Certified to ensure your business has the highest standards in environmentally-friendly and healthy disinfecting methods.
Get Certified
Show your Team & Customers Your Commitment to a Higher Standard of Safety Disinfecting Protocols.
The Go Fog It 12- Step checklist verifies you not only achieve the required steps for a disinfected space – you go above them!
Why Be Go Fog It™ Certified?
Who can be Go Fog It certified?
Whether you are a service provider looking to take your service to the next level or a business looking to tell the world you are exceeding the protocols, we have a certification for you!
Your Business Go Fog It™ Certified!
At Go Fog It™ we want to help you make the best decisions for your space! Our goal is to take the guesswork out of disinfecting by ensuring our health and safety experts are up to date on protocols and best practices and to give you, your employees, and your clients' peace of mind. Let us ensure your business is certified disinfected!
It's time to look the part
Get marketing materials featuring the Go Fog It Certified badge so your staff & clients know you care.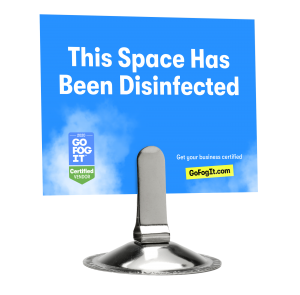 There's a reason Go Fog It is trusted by business owners around the world
Health and Safety is our number one value. We spend 1000s of hours researching and testing products and disinfectants to understand and prove their effectiveness. We work with top Health and Safety experts and medical professionals. Let us do the research for you. You can trust Go Fog It will be current and up to date in our research and training.
Promote Your Commitment
Go Fog™ It Certified teams and spaces will receive certification badges and certificates to be displayed at their locations and as part of their marketing materials. Show off that you're Go Fog It™ Certified with signs, door hangers, official Go Fog It™ certifications, and more. Provide customers with peace of mind that your space is safe and disinfected from the minute they walk through your door.
Taught by Industry Experts
Our certi-fogged content has been developed by an award-winning adult education provider! We make disinfecting fun! We want your team to not only learn but to be engaged while doing so. The Go Fog It™ training ensures that your team understands the WHY of disinfectant fogging and spraying and will support the execution of the protocols. After all, that is what is most important.
Facility

Half-Day Course

2 hours of curriculum

Taught by Melissa Maloney

Topics covered in Certification:

12 Point Checklist
Cleaning vs Disinfecting
Choosing the right disinfectants for long term sustainability
Disinfecting Protocols
Health and Safety
and more…

$949 CAD +HST
Inquire Now
Provider

Half-Day Course

3 hours of curriculum

Taught by Melissa Maloney

Topics covered in Certification:

Cleaning vs Disinfecting
Chemical Training
Health and Safety
Disinfecting Protocols
How to fog
Sustainability
and more…

Please inquire for pricing information.
Inquire Now
General Topics Covered in Certification
What's the difference between cleaning and disinfecting?
What's the difference between chemicals and will they damage our equipment? What is dwell time and how does it vary by solution?
How much disinfectant needs to be used on certain types of surfaces?
How do I promote what I'm doing for my customers and staff?
Go Fog It brought the level of scale and expertise to effectively fog all of our locations. More important, their understanding of the disinfecting space, fogging technology and comprehensive training program enabled us to fog the locations on our own with a level of confidence that we were truly rolling out the right solution. It's been a great experience and we are happy to know that they stand behind us as we get back to work!